China's 'Monster Hunt' outperforms Hollywood's "Ant-Man" & "Minions."
By Michelle FlorCruz |
This weekend's big box office hit didn't even open in the U.S., the world's No. 1 movie market, and it still managed to earn $109 million in its first four days of release. China's "Monster Hunt" is a live-action, computer-generated imagery (CGI) family flick that broke multiple domestic box-office records, even outperforming Hollywood blockbusters "Ant-Man" and "Minions."
FTA can act as your Chinese Celebrity Agency and help you contact book anyChinese Celebrity
The $40 million 3D film not only set the record for biggest opening day gross in China, at $26.45 million, and single-day gross at $29.84 million, but it also broke the record for Imax earnings with $9.7 million during its opening weekend, according to the Hollywood Reporter. And the movie was shown on 216 Imax screens, making it the largest opening for a Chinese Imax film. 
For comparison, this weekend was also the opening of the widely anticipated Marvel superhero movie "Ant-Man," starring Paul Rudd. The film put up impressive numbers, earning $58 million in the U.S., according to Box Office Mojo.
"Monster Hunt," directed by Raman Hui, tells the story of Wuba, a monster that is destined for the throne but takes on the tall task of preventing a civil war in a land where humans and monsters coexist. It is regarded as a prime example of what Chinese filmmakers are capable of today.
Chinese filmmakers and movie houses are seeing a marked change in box-office performance of homegrown movies as the industry improves. For a long time in China, audiences mostly preferred Hollywood-made big-budget action and superhero flicks over domestic fare. Recently, however, with Chinese filmmaking technology and funding catching up with Hollywood, Chinese films are holding their own at the box office.
In 2013 ticket sales for homegrown Chinese films increased 144 percent, to $1.2 billion, while imported films experienced a 21 percent drop to $670 million. Though the performance of Hollywood movies isn't likely to taper too much anytime soon — with huge earnings in China for movies like "Furious 7" and "Jurassic World" — they are no longer as culturally dominant over Chinese movies as they used to be.
"Chinese people want to see movies about what's happening in their society and their lives — what they can relate to," Dede Nickerson, Sony Entertainment's head of production and development in China, said last year during a U.S.-China Film Summit hosted by the Asia Society. Nickerson added that the movies rivaling Hollywood releases at the box office were mostly personal tales of modern Chinese life.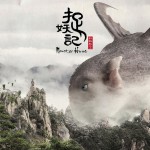 Source: https://www.ibtimes.com/pulse/chinas-monster-hunt-movie-biggest-summer-blockbuster-youve-never-heard-2016023
Celebrity booking agency in China & Overseas film consulting services   Monster Hunt, Ant-Man, Minions, Chinese Celebrity booking, Hollywood Celebrity in China, Hollywood agent in China, Investment, scripts, consulting, 外模, 外籍演员, 外国艺人