Caterina Murino repped by FTA comes to China for press conference of new kids Movie: Little Flying Pig
Caterina Murino repped by FTA in China was in Beijing for the opening ceremony of Sci-fi animated kids movie "Invincible Little Flying Pig" last week. The former "007: Casino Royale" Bond girl, said she was very much looking forward to working in China on this new project. Caterina Murino will playing the English teacher with a special magical secret.
We help you find and contact book Foreign Actors in China and Foreign Models in China
"Invincible Little Flying Pig" is a domestic sci-fi children's movie about Ling Fei a girl who is sent to camp who has a magical encounter with a flying pig and if pigs CAN fly what else is possible???
FTA can act as your Chinese Celebrity Agency and help you contact book any Chinese Celebrity.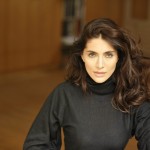 source: https://news.xinhuanet.com/yzyd/ent/20140317/c_119797233.htm
FTA foreign acting&modeling talent and foreign celebrity booking agency in China & Chinese Celebrity booking for the world
Caterina Murino China, Chinese Celebrity Agency, Chinese Celebrity booking, Foreign Actor in China, Foreign Model in China, 外模, 外籍演员, 外国艺人